The Wider Movement – Encounters & Expressions
Human Development and Social Competence All Africa  Anthroposophic Training
Kenya 2018
The Anthroposophic Training in Kenya 2018 will be held as from 1st to the 8th of August 2018 in Kenya at the Franciscan Family Center at Karen Hardy in Nairobi.
It will be exciting one week bringing together Farmers, Teachers, Doctors and Nurses and Health Practitioners, and artistic sectors from all over Africa and indeed from other corners of the world.
This is the training that you would not want to miss!
World renowned facilitators that will carry the Conference
Dr. MICHAELA GLOECKLER
Lectures on the theme
ANGELA HOFMANN
Biodynamic farming and gardening
Dr. Med. FRIEDEMANN SCHAD
Anthroposophic Medicine
DAVID WERTHEIM AYMES
Ethical Business
CAROLA EDELMANN
Care for mother and baby
Dr. ANDREA SEEMAN
Child study and support
JULIA O'LEARY
Therapeutic Eurythmy
COBIE ROELVERT
Morning Eurythmy
RICHARD GOODALL
Prayer and Meditation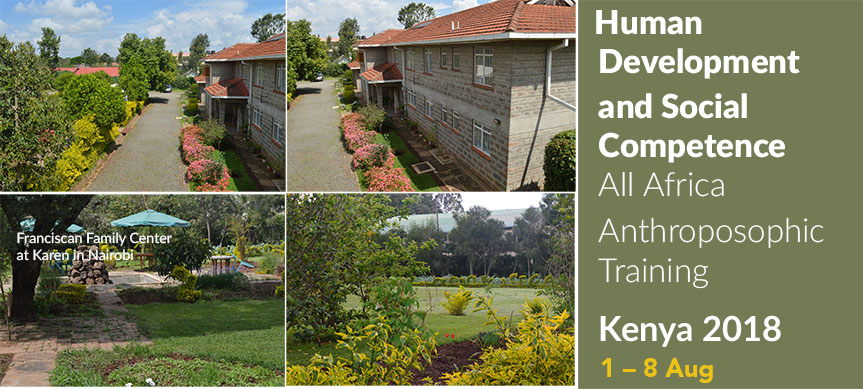 Venue
Franciscan Family Center at Karen Hardy in Nairobi
CONTACT & BOOKINGS:
Julia O'leary
(for queries and registration)
+27 76 904 7632
juliaoleary021@gmail.com

Good luck as you prepare to come!
Applications

Resources in Africa

Information
" A fundamental concern for others in our individual and community lives would go a long way in making the world the better place we so passionately dreamt of "
–
Nelson Mandela